Reviewed by Ted Witham
Under $10 online. $6.95 from Christ's Church, Anglican Parish of Mandurah. Digital version at Exponential (free)
ISBN 9781631465161
Michael Frost, Surprise the World: the five habits of missional people, Colorado Springs: NavPress, 2016.
Insanity, they say, is doing the same thing over and over and expecting a different result. We Christians at the beginning of the 21st Century should recognise that kind of insanity: if we expect our usual patterns of worship, however contemporary and relevant, to continue to draw people into Christ, then we shall continue to be disappointed by the Church.
There is a place for ministry to Baby Boomers using traditional worship, but every member of the congregation is aware that the mean age of our fellow church-goers is increasing. In other words, Baby Boomers are aging, dying and not being replaced by younger people. Older people in their eighties continue trying to keep up the level of Christian activity that had when younger, and are experiencing burnout and disillusionment.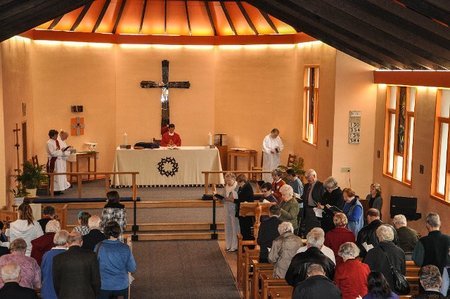 The answer is not more of the same. The Anglican pattern of gathering everyone for the Sunday Eucharist is only 60 years old, going back to the Parish and People Movement of the 1950s. We can dare to envisage new ways of being church.
Bunbury's new Bishop, Ian Coutts, has been circulating copies of Surprise the World! as he visits parishes in his diocese. Bishop Ian states that responding to the Good News of Christ is pretty simple, really. Loving each other so that we want to reach out and love others.
He has chosen a book that all Anglicans can use and act on. The book is about "shar[ing] your faith in surprisingly simple ways."
Australian evangelist Michael Frost, Co-founder of the Forge Mission Training Network, encourages us to follow his model of B.E.L.L.S.: "We BLESS people, both inside and outside the church. We EAT together, sharing meals with believers and non-believers alike. We LISTEN to the … Holy Spirit. We intimately LEARN CHRIST, … [and] we see ourselves as SENT by God to everywhere life takes us."
The strength of this model is that it does not assume that every Christian is a gifted evangelist. Few Christians are: most of us are to live our lives so that they provoke questions, "living a questionable life", and answer them simply and directly as they arise out of our mixing with nonbelievers.
Frost emphasises that the B.E.L.L.S. model is not a one-off program, but the cultivation of life-long habits that will feed this evangelistic lifestyle. The model as described is not difficult or complicated, and it sounds fun, social justice will be practised and beauty will be encountered.
I am impressed by this little book. As a Franciscan tertiary, my first aim is to "make Christ known and loved everywhere". These habits will speed my steps to opening doors to conversations about the Good News.
I am also in ongoing pain, a misfiring of my nervous system. Pain is closely related to depression: if you have pain, the pain will eventually make you depressed. Two spiritual strategies to defeat the depression, and so modulate the pain, are to reach out to others in need and put yourself out in the community (and not hide away in dangerous isolation). B.E.L.L.S. gives me means to do that (BLESSing and EATing) and also shows how to nurture these activities through prayer and Bible study (LISTENing and LEARNing Christ).
There are questions for discussion for each chapter of Surprise the World! These will help readers take in what they have discovered and put the five habits into practise.
I am delighted that Bishop Ian recommended the book to me, and that he is encouraging others to discover B.E.L.L.S. and whistles (no whistles actually!) I read the book in three hours. Now I want to find three people to meet with, discuss the book, and get busy. Hopefully, B.E.L.L.S. will lead away from insanity!