Read Wisdom 6:1-11
"He will search out your works and inquire into your plans." (Wisdom 6:3b NRSV)
Deep under Duke University in a series of fluorescent-lit rooms, lies a whole different world. If you enter from the Divinity School library and take the elevator down to these "stacks", you wander from room to room. Eventually, you leave the Divinity School library and meet the subterranean rooms of the main University library. In total, the Duke libraries contain 6 million volumes.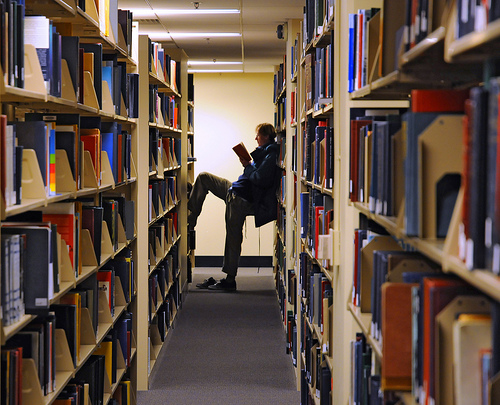 On a few occasions, I spent an afternoon searching for books and journals in this lower world. Because it is so vast, I found myself losing my orientation. I was drawn more and more deeply into the search: from this book, to this author, to this journal, to this Dewey number. It was a totally immersive experience: I felt pleasantly swallowed by the library.
As Christians, we seek the same immersive relationship with God, not necessarily through books, but through our lives, reflection on Scripture and conversations with fellow believers. We are drawn more deeply into who God is, experiencing more fully God's love, God's joy and God's compassion for ourselves and others. We even experience a sense of dislocation, like wandering in the underground parts of Duke Library, never quite sure of the God who is ultimately beyond our understanding.
The writer of Wisdom reminds us of the surprising truth that this deep searching is reciprocated. Not only do we have the opportunity to search into the depths of God, but God searches us out and "inquires into our plans". God loves us so dearly that he wants to know us through and through, intimately and passionately. God immerses Godself in us, roaming in our lives and tenderly exploring each part as he finds it. And as God discovers more and more who we are, so God's searching love transforms this, then that, aspect of our lives.
As we search the depths of God, and God searches our depths, so we become more like God, forgiven and free to be loving, joyful and compassionate.
God is open to our searching. God invites our immersion
in God's life. God rejoices in our deepening understanding of his nature. We too must decide to open ourselves to God's searching, knowing that there is no part of us that God cannot redeem, and knowing too that God is determined to know as and to transform us.
Thought: God seeks to know us so he can love us more deeply. We seek to know God so we can love God and all God's creatures more deeply.
Prayer: Open our hearts, God of Wisdom, and come into our lives and change us into your glory. Amen.
The edited post as published in the Upper Room is at https://www.upperroom.org/devotionals/en-2022-03-26t