Ngaala kaaditj Noongar moort keyen kaadak midja boodja
On Australia Day in 2013, I blogged as a native, but not indigenous, Australian that we should prize the anger that comes from seeing this day as Invasion Day: anger that fuels social justice and reconciliation. I believed that we should celebrate the Aboriginal culture, with its complexity, subtlety and beauty, that has survived as Survival Day, and even rejoice in the culture that came from Europe but which has now been modified by its exposure to Aboriginal culture.
Australians all, let us rejoice seemed to be the theme of my blog six Australia Days ago. I still think my piece said it well for a whitefella.
But there has been a change in six years. The #changethedate campaign has made Australians more uncomfortable about celebrating on Invasion Day. But that campaign and others has also had another effect: it has empowered Aboriginal people to make something else of Australia Day.
Yesterday on the ABC I watched a smoking ceremony, I was welcomed to Eora country, I heard Yothu Yindi sing Tjapana and Treaty, I thrilled at superb didjeridoo playing, I was intrigued by those who spoke in language, and I felt unexpectedly proud when Advance Australia Fair was sung in an Aboriginal tongue.
It was an ABC concert, so I wasn't surprised that actor and PlaySchool presenter Luke Carroll acted as one of the hosts, but his presence was a pointer to the extent to which the concert was coloured black! It was an Aboriginal takeover, and I felt moved. I felt pride that this was our land, and I felt warmly welcomed into its deep culture. 
There were intense emotions expressed on the streets of capital cities at Invasion Day marches, and it is obvious that not all Indigenous people agree on strategy: should they protest until change happens, or should change happen by changing the mainstream celebration?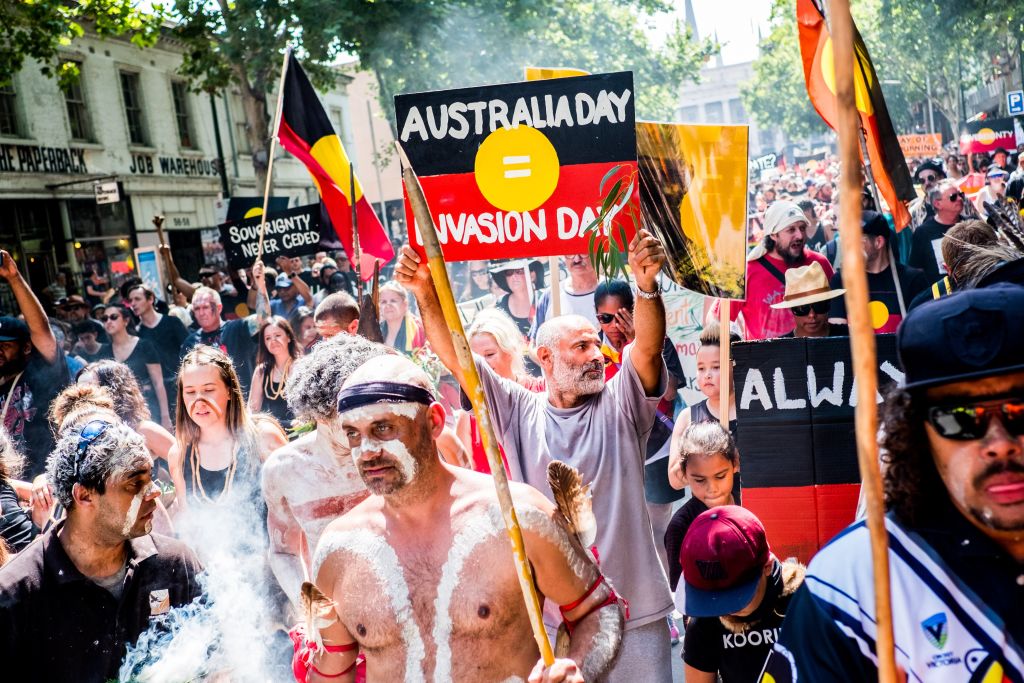 Whichever is the most effective strategy, Aboriginal people are speaking loudly. They must say whether Australia Day can be rescued or whether we can only express our belonging together on a day without the historical resonances of invasion and frontier wars.
I for one look forward to a celebratory date with Aboriginal and all Australians.