When we moved our young family to the United States, we couldn't find a 'see-saw' anywhere. When eventually we found a playground with a see-saw, we were told it was called a 'teeter-totter'. On reflection, the American name is more descriptive than 'see-saw': 'teeter-totter' describes the way two children play on the equipment.
Each child sits at her end of the long plank and balances up and down. Two ends, a plank, and an elevated pivot are all that it takes to make a see-saw.
Jesus describes a spiritual see-saw at the end of this Sunday's Gospel reading. There are two ends to the see-saw: one end is 'Come unto me … and rest'. The other end is 'Take my yoke upon you, and learn from me' (Matthew 11:28-30).
These are two poles of Christian life. At one end is the delightful world of prayer, of resting in God, of basking in a relationship with the One who utterly accepts us. At the other end, is the world of ministry, of efforts for the Gospel, of actively caring for others.
Spirituality and pastoral care, being loved by God and loving others. The see-saw reminds us that, though there may be two ends, it is one plank. In the end you cannot separate prayer and ministry.
In the Franciscan tradition, we say we Christians serve God in the Three Ways of 'Prayer, Study and Work'. These are the three activities into which all Christians are invited. 'Study' is like the vertical beam of the see-saw which enables us to pivot between Prayer and Ministry. 'Study' is learning from Jesus (Matthew 11:29), considering mindfully both our prayer and our work for the Kingdom.
What we learn is that prayer and ministry cannot be separated. They are the same plank, the same life. Some Christians are tempted to spend 'sweet hours of prayer', retreating to the safety of spirituality, and never venturing out to practise on others the love which God lavishes on us.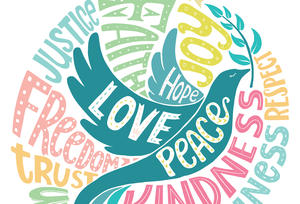 Some find it easy to ignore the pesky questions about God and prayer and put all their effort into social activism, caring for the refugee, standing up against racism, feeding the hungry – and forget that it is not sustainable. We need also to be fed ourselves, and nurtured and healed.
The wisdom of Jesus is that both are needed: 'Come unto me…' and 'Take my yoke upon you.' The challenge of the end of this Sunday's Gospel reading is this: how is your balance on the teeter-totter? Do you move 'up and down' between prayer and ministry, or are you stuck at one end or the other? What 'study' do you need to help integrate spirituality and ministry?